Our Partners
Affiliations
Gaon Connection
Gaon Connection is India's biggest rural media platform, a two-way street that takes information to knowledge-starved rural communities and brings information about everything from problems to role models from media-dark areas to urban India. Gaon Connection is currently working in Uttar Pradesh, Bihar and Jharkhand. Project KHEL has been a knowledge partner for their rural projects to spread awareness about sexual abuse among children.
CII-Yi
Young Indians (Yi) is an integral part of the Confederation of Indian Industry (CII), a non-government, not-for-profit, industry led and industry managed organisation playing a proactive role in India's development process. Project KHEL is the knowledge and implementation partner for Yi under their Project Masoom in Lucknow, which aims at keeping children safe by increasing awareness on crucial topics.
Crossbow
Crossbow miles is a mobile app, which mirrors the on-ground movement through the spine of India to mobilize communities to make the country safer for girls and women and makes it a digital world movement. Downloading this app enables people from all over the world to contribute their steps to the cause and give virtual support to stellar organisations working for the betterment of women. Project KHEL is one of the listed partners working for the empowerment of women.
Small Change
Small Change is an online crowdfunding platform which champions India's NGOs and help them raise funds in India from people by telling stories to inspire empathy and change lives. Project KHEL has successfully managed to raise supporters and secure funds hassle free in the last 1 year of association with Small Change.
Rubaroo
Rubaroo is a Hyderabad-based non profit that seeks to create a platform that is a safe and inclusive space for young people to access opportunities of learning and self development. They do this by facilitating experiential learning opportunities through inclusive, mentored, self-reflective journeys.
Project KHEL hosts ypug school-going interns from Rubaroo for a two month period in order to give them exposure to our work in slum communities and shelter homes in Lucknow
Girl Rising
Girl Rising is a global campaign for girls' education and empowerment. They use the power of storytelling to share the simple truth that educating girls can transform societies. Together with partners, they launch high profile campaigns to bring visibility to the issues girls face and inspire people to dismantle the barriers that hold them back.
Project KHEL is partners with Girl Rising in raising awareness, inspiring action and making change happen through screening film and educational videos and facilitating discussions
BeyondSport
The Beyond Sport Foundation is a unique registered charity. Together with their expert partners and through the Beyond Sport Awards, they support inspirational people and projects that are using sport to make a resounding and powerful impact in some of the most disadvantaged and excluded populations from around the world. Annual Beyond Sport Awards take place – celebrating the leading examples of how sport can be used to address a range of social issues. Throughout each event, key themes are identified that require a more intensive focus from the world of sport for development – for example use of sport to enhance girls' education, child protection, sport's role in urban communities.
HeForShe
HeForShe is a solidarity campaign for gender equality initiated by UN Women. Its  goal is to engage men and boys as agents of change for the achievement of gender equality and women's rights, by encouraging them to take action against inequalities faced by women and girls.
Gender Equality has been an intrinsic element of Project KHEL sessions. We have pledged our support for the campaign, as engagement partner by creating awareness through social media and life skills sessions.
Menstrual Hygiene Day
Menstrual Hygiene Day (MH Day) is a global platform that brings together non-profits, government agencies, the private sector, the media and individuals to promote Menstrual Hygiene Management (MHM).
MH Day raises awareness of the challenges women and girls worldwide face due to their menstruation and highlights solutions that address these challenges, including through media work.
It catalyses a growing, global movement for MHM and supports partnerships at global, regional, national and local level. MH Day also creates opportunities for advocacy for the integration of MHM into global, national and local policies, programmes and projects.
StoryWeaver
StoryWeaver, an initiative of Pratham Books, is an online platform that hosts stories in languages from all across India and beyond. So that every child can have an endless stream of stories in her mother tongue to read and enjoy. StoryWeaver is an open platform designed to be innovative and interactive. It invites both, the weaver of stories and the reader to connect and share the fascinating world of words and illustrations. Project KHEL is partnering with this initiative for our story telling sessions with adolescents and children in and around Lucknow as well as in other regions.
Results For Development
Research for Development Institute (R4D) is a non-profit organization whose mission is to unlock solutions to tough development challenges that prevent people in low- and middle-income countries from realizing their full potential. Using multiple approaches in multiple sectors, including Global Education, Global Health, Governance and Market Dynamics, R4D supports the discovery and implementation of new ideas for reducing poverty and improving lives around the world.
We have been profiled in their web-based platform of innovative WASH based programmes, which aims to increase access to WASH for the poor through fostering collaboration amongst implementers, funders, researchers and other stakeholders.
http://washinnovations.r4d.org/program/red-spot
Cambridge RSP
The Rickshaw Sports Project (RSP), set up in 2013, is a socially driven project, that takes Cambridge University sports players to India and Nepal to deliver a sports education programme to disadvantaged children, during the university's summer break. Project KHEL hosted six students from Cambridge for a fortnight in Lucknow, introducing them to sports for development, traditional Indian sports and games and helped manage the India leg of their tour.
Eco Femme
Eco Femme is a social enterprise with a global mission and reach, working in the area of menstrual hygiene management by enabling women to manage their menstruation in a healthy and dignified way. Eco Femme has designed a premium range of cloth washable pads that are available internationally including in urban India. Profits from sales help sustain their educational outreach work in rural communities and enable to provide cloth pads at cost price to economically disadvantaged women. Project KHEL is Eco Femme's Pads for Pads Program implementation partner in Uttar Pradesh.
Girls Count
Girls Count is a civil society response to the gender biased sex selection and the declining child sex ratio. It is a unique initiative which brings together over 200 civil society organizations and individuals for collective action against the skewed child sex ratio in India and poor status of women and girls. It aims to bring together stakeholders from diverse fields to create an enabling environment for women and girls by challenging deep-rooted patriarchy. It is also working towards raising the accountability of the state machinery to implement all gender related laws and policies in the country.
Help Your NGO
Help Your NGO visions to make charity giving become more transparent by making NGO financials available for review and analysis. It helps smaller NGOs have the same visibility as larger NGOs and access pools of money or chunks of time that tend to be monopolized by larger NGOs. It also helps those who wish to donate money and/or time selects a cause and charity of their choice to work with. NGOs raise their level of growth and evolution by accessing articles and taking guidance from 'HELP YOUR NGO' on how to be better organized to handle the challenges of growth.
Samhita Social Ventures
Samhita Social Ventures is a leading social sector consulting firm enabling people and organizations to give strategically to drive change. They work with companies to create and implement CSR strategies aligned to business objectives and help philanthropists and foundations address causes dear to them through impact-focused initiatives. They have a network of 20,000 NGOs across India and immense credibility.
GuideStar India
GuideStar India, an initiative of Civil Society Information Services India, is India's leading provider of NGO information. Their portal www.GuidestarIndia.org is India's largest, fully searchable database of reliable and comparable information on over 4,200 NGOs. With another 70,000+ NGOs on their offline database, they have brought down the cost and time of connecting with NGOs. By joining GuideStar India, Project KHEL demonstrates its commitment to being a transparent & accountable organization.
Partner Locations
Vardaan International Academy
Vardaan International Academy located in Khargapur, Gomti Nagar Ext., Lucknow is a Co-Educational Secondary School institution affiliated to the Central Board of Secondary Education (CBSE) on Provisional basis since 2008. The school has been operating officially under the trust/society Vardaan Educational and Social Welfare Society. Project KHEL is working with students from classes 3 to 6 under our Made in Maidaan programme.
Community Welfare School
Community Welfare School started operations in 2016 in the area of Rahim Nagar – Dudauli of Lucknow to primarily educate children of rag-pickers who had inhibited this area from past 15 years. There is a huge migrant population in this area, and their parents usually work as daily wage laborers. With no proper schools in this area – Community Welfare School serves as the only English Medium Elementary School for these children to read and learn. The school caters to classes Nursery to Class 3 and we engage with children falling in our target age range from all classes through our our play based Life-Skills Education programme.
Arvind Academy
Arvind Academy, Malhaur is a coeducational English Medium School, established in 2010. It is managed and run by the Arvind Memorial Charitable Trust with the objective of imparting value- based education to students as well as students of all communities irrespective of caste creed of religion. Project KHEL currently works with the students from class 3 to 6 through our play based Life-Skills Education programme.
Balu Adda
Balu Adda is a slum settlement where most of the residents are migrants from Assam. Project KHEL currently works with more than 40 children at this location through our weekend volunteering programme.
Modern Madarsa
Modern Madarsa strives to improve the quality of life of children from low economic backgrounds by focusing on their education. They have set up an 'After School Model' which aims at holistic development of children by working on comprehensive education with importance to English and Personality improvement while learning the traditional Islamic courses.
Project KHEL has partnered with Modern Madarsa to inculcate Life Skills in the children through our Made in Maidaan Programme. We engage with more than 40 children from this location.
Bhartiya Balika Vidyalaya
Bhartiya Balika Vidyalaya is a government aided school located in the Hazratganj area of Lucknow. Established in the year 1949, it has a vivid 67 years of history and achievements. There are 2 schools: Bhartiya Balika Vidyalaya Primary and Bhartiya Balika Vidyalaya Higher Secondary School within the same premises. The children mainly belong to families of 4th grade staff of private and public companies as well as domestic help. Currently the school has more than 1300 children enrolled and attending classes. Our sessions are being conducted with two different sets of children from class 4th and class 9th with total of 170 children.
Janeshwar Mishra Park Community
Making the best use of a community park, we have begun engaging with child hawkers operating out of the space and children living in settlements around the park, who are otherwise seen loitering around aimlessly in that area. The families of the 60 odd children we are engaging with, have migrated from different parts of Uttar Pradesh and nearby states to explore better livelihood opportunities in the city.
Our Ultimate Frisbee team practices in the park and many of the team members belong to communities living nearby.
Sarthak Foundation
Sarthak Foundation is a non profit organisation that strives to improve the quality of life of children living in slums and villages (mainly beggars, rag pickers and nomads) by focusing on their education. The Foundation reaches out to children who cannot afford quality education and take them beyond 'just being literate'. They have set up a supportive 'After School Model' in the slum communities and focus on the holistic development of children by working on comprehensive education with importance to English, Mathematics, Computer and Personality improvement.
Project KHEL had partnered with Sarthak Foundation to inculcate Life Skills in the children through our Made in Maidaan Programme. We engaged with more than 80 children from two Sarthak centers – Malhaur and Chinhat)
Husadiya Slum
This is an illegal settlement under the Husadiya flyover in the Vineet Khand area of Gomti Nagar. Most of the residents hail from distant villages of Sitapur, Balia and other districts of Uttar Pradesh and work here as daily labourers or Rickshaw pullers. We engage with more than 70 children here through our play based Life Skills programme as well as other pilot programmes.
Rajakiya Baal Griha (Baalak), Mohaan Road
Rajakiya Baal Griha (Baalak), Mohaan Road, is a government run shelter home for boys. Most residents are either orphaned or abandoned or had lost their way from home at a young age and never met their families again. With the encouragement of UPSCPCR (Uttar Pradesh State Commission for Protection of Child Rights), Project KHEL is running it's Just KHELo programme here and we are currently working with 30+ adolescent boys at this shelter home.
Rajkiya Bal Griha (Balika)
Rajakiya Baal Griha (Balika), Motinagar, is a government run shelter home for girls. Most inmates are either orphaned or abandoned or had lost their way from home at a young age and never met their families again. The Child Welfare Committee has allowed Project KHEL to conduct the program here and we are currently working with 60 girls at this shelter home.
Prayaas
An after school programme run by Modern Academy, Prayaas was founded in 2011 and has a current enrollment of 310 students from underprivileged backgrounds – children of daily labourers, domestic helpers, rickshaw pullers and so on. The school offers education from classes Montessori to Class five. The school charges a normal fee which covers all aspects of the childrens' education including tuition fees, summer and winter uniforms, books and stationary. Project KHEL is currently working with classes 2, 3, 4, and 5.
Mamta Foundation
Mamta Foundation was setup in April 2001 by Dr. Suresh Agarwal in memory of his wife. Dr. Agarwal built Mamta School for the children of underprivileged families living in village Khanipur on Sitapur Road, Itaunja. With a population of over 22,000, Khanipur has long suffered from illiteracy, water shortage, lack of health facilities and awareness. Today, 200 children from the village are enrolled at Mamta school and benefit from basic education facilities provided at a very nominal fee, most of the poorest children and girls study for free or are sponsored by individual donors. The school has a library and a small computer center and children are encouraged to pursue their dreams and to learn new creative skills; they even have their own newspaper 'Mamta Digest' and a theatre club.
Justice Triveni Sahai Shiksha Niketan
This school was established in 2010, with an enrolment of 480 children.The school was started by Shri Satish Chandra Mishra, Member of Parliament from Uttar Pradesh in the Rajya Sabha, in memory of his father Justice Triveni Sahai Mishra for the children of underprivileged families living in village Khanipur on Sitapur Road, Itaunja. The 550 children currently enrolled in this school belong to an agrarian background and in most cases are first generation learners. The school fee ranges from Rs. 50/- to Rs. 160/ between classes Nursery and 10. Project KHEL is currently working with children studying in classes 6, 7, 8 and 9.
Lucknow Childrens' Home (Girls)
Lucknow Childrens' Home was established in 1967 by Dr. Padma Sahai and is now being run by the third generation of his family. The home provides a shelter for girls who are from broken families or who have been orphaned. The shelter can house 40 girls at a time and at present is home to about 15 girls between the ages of 5 to 21 years. The shelter provides them not only with boarding and lodging but also supports their overall upbringing and tries to give them their own identity. We work with more than 10 girls from the shelter through our Ultimate Frisbee programme.
Nav Srijan
Nav Srijan, the after school programme run by Seth M. R. Jaipuria School Gomti Nagar was started in 2010 with a batch of about 50 students and has now scaled to more than 250 children enrolled in the programme. This school is run for children belonging to the lower socio-economic strata, ranging from families of domestic workers to rag pickers. Preference for admission is given to children from more deprived backgrounds. Currently, classes are run from LKG to Standard 3. The syllabus for Nav Srijan is exactly the same as that of the mainstream Jaipuria School. Children are provided education free of cost and also free provision of books and uniform. The administration's perspective towards education ranges beyond literacy and is inclusive of improvement in manners, behaviour, sanitation and hygiene and building cultural sensitivity of the children.
Study Hall Foundation
Project KHEL has partnered with various programmes of one of the foremost educational initiatives of Lucnow, the Study Hall Foundation. At their Non-formal Education Centers (NEC) whose main objective is to impart quality education to children with a special focus on reaching the underserved parts of the population, Project KHEL has been conducting sessions with the children who are from slums. We have partnered with SHF for NECs in Gomti Nagar – namely, Lohiya, Ujariyaon and PatelpuramSituated. Project KHEL engages with some of these children in what is perhaps their first experience of organized games.
Project KHEL had also partnered with the SHF for conducting MiM sessions with classes 4 and 5 at Prerna Girls School in the past. This school extends quality education including sports and co-curricular activities to over 600 girls from the neighboring slums and communities. Compelled by their circumstances, many of them work in houses as domestic help.
At present we engage with children at SHF's Gomti Nagar Railway Station NEC through our weekend volunteering programme.
Akanksha School
Akanksha school is run under the aegis of Akansha Nari Seva Samiti, an NGO in Lucknow which employs women from low income groups. These women work with the NGO daily and have been able to improve their living standards because of the support from the NGO. Set up in 2006, the school is an initiative of the NGO to provide education to the children of the women who work in the NGO as well as those who are from nearby localities.
Project KHEL conducted Made in Maidaan sessions at the school for more than 2  years
Pramodini School
Pramodini is a government aided school in the Jopling Road area of Lucknow. Established more than 50 years ago, Pramodini School began getting government aid in 1997. There are 3 schools: Pramodini Elementary, Pramodini Primary and Pramodini Junior High School within the same premises. While the education, books and uniform for classes 1 to 5 is self-sponsored, the government provides for the same to children from classes 6 to 8 for free. The children mainly belong to families of 4th grade staff of private and public companies as well as domestic help. We conducted Made in Maidaan sessions at this school for more than 3 years.
Acharya Narendra Dev Academy
Acharya Narendra Dev Academy was established in 1995 as a playschool for children from disadvantaged backgrounds. In the last 15 years, it has now become a full fledged school (upto Std. 8) and offers Hindi medium education.  The parents of these children work as maid servants, sweepers, newspaper and milk delivery persons, etc. Some of the children pay a nominal fee and some are offered sponsorship which covers their school fees as well as books.
Project KHEL conducted Made in Maidaan sessions at the school for more than 3 years
Samarth Foundation
For the past several years, 'Samarth Foundation' in Gomti Nagar, Lucknow has been focusing on providing education and other inputs to the children & families of migrant Workers. eg. Construction-site workers, Daily-Wagers and Domestic Workers. The aim is to empower them with knowledge, skills and values so they grow up to become responsible members of the society. At its informal free study centre, Samarth strives to reach out to these young ones by providing them with a variety of learning opportunities, help them in overcoming obstacles, whether physical or emotional, and expand their potential for gainful employment.
Project KHEL conducted Made in Maidaan sessions at the center for more than 2  years
Deepshikha
Deepshikha is the the campus teaching program of La Martiniere Girls College for children from disadvantaged backgrounds. These children are either from nearby slums or children of the school's support staff. This program, an initative of the Gandhi Corner at LMGC, has been in operation for the last 40 years. Both boys & girls, aged 4 to 15 years are part of this program. Most of the children are part of a regular school program and Deepshikha aims to equip the weaker students with better understanding of key subjects such as Maths, English & Computers. On an average there are 50 children associated with this program. The children are taught by 9th & 11th standard students of La Martiniere after school hours and meritorous children are given scholarships for the year.
Ehsaas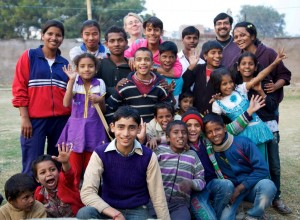 Ehsaas was founded in June 2002 with the distinct goal to work towards mainstreaming disadvantaged children so that they can lead a life with dignity with no stigma attached. Ehsaas has a strong belief that community participation would bring the desirable change in our society. Ehsaas works with children in difficult circumstances, children on railway platforms & on the streets without any responsible adult, children without parental care & support & children with families in crisis situation.
Over the years, Project KHEL has worked with the children at various drop in centers of Ehsaas, and also partnered with Ehsaas under the Safe City Initiative to work directly with children in a slum at Shram Vihar. The longest standing partnership was with Gharonda – a shelter home for boys run by Ehsaas.
Funding Partners
UNICEF
Through a small project grant, we have been commissioned to develop content in the form of games and activities for strengthening the GARIMA and Rashtriya Kishor Swasthya Karyakram projects and also conduct  TOT workshops on the same
Letzchange
LetzChange is a non-profit organization helping people discover and donate to vetted and verified Indian NGO projects online. Through this platform, we are conducting a crowdfunding campaign.
Letzdream Foundation
Letzdream Foundation is a Non-profit, grantmaking organization which funds non-profits to enable them to adapt more efficient and impact-driven models of development and execute social interventions which bring about lasting change. LDF further strengthens its partner non-profits to help them reach their goals and achieve meaningful and measurable results. LetzDream has been providing matching grants based on certain challenging criteria to be met in our last two crowdfunding campaigns on our LetzChange fundraising page.