Monthly Archives: July 2018
Vardaan International Academy
Vardaan International Academy located in Khargapur, Gomti Nagar Ext., Lucknow is a Co-Educational Secondary School institution affiliated to the Central Board of Secondary Education (CBSE) on Provisional basis since 2008. The school has been operating officially under the trust/society Vardaan Educational and Social Welfare Society. Project KHEL is working with students from classes 3 to 6 under our Made in Maidaan programme.
Gaon Connection
Gaon Connection is India's biggest rural media platform, a two-way street that takes information to knowledge-starved rural communities and brings information about everything from problems to role models from media-dark areas to urban India. Gaon Connection is currently working in Uttar Pradesh, Bihar and Jharkhand. Project KHEL has been a knowledge partner for their rural projects to spread awareness about sexual abuse among children.
CII-Yi
Young Indians (Yi) is an integral part of the Confederation of Indian Industry (CII), a non-government, not-for-profit, industry led and industry managed organisation playing a proactive role in India's development process. Project KHEL is the knowledge and implementation partner for Yi under their Project Masoom in Lucknow, which aims at keeping children safe by increasing awareness on crucial topics.
Crossbow
Crossbow miles is a mobile app, which mirrors the on-ground movement through the spine of India to mobilize communities to make the country safer for girls and women and makes it a digital world movement. Downloading this app enables people from all over the world to contribute their steps to the cause and give virtual support to stellar organisations working for the betterment of women. Project KHEL is one of the listed partners working for the empowerment of women.
Small Change
Small Change is an online crowdfunding platform which champions India's NGOs and help them raise funds in India from people by telling stories to inspire empathy and change lives. Project KHEL has successfully managed to raise supporters and secure funds hassle free in the last 1 year of association with Small Change.
17 steps from bed to office and back, yet I have miles to go before I sleep…
Contributed by: Varsha Ashok
Dated: 6th July, 2018
I got on a flight only because everything about it felt right. I remember making all these expressions and singing 'breakaway' so loudly, although in my head :D. My decision to move out of Chennai of what was the most comfortable life and come to Lucknow could have easily been a rollercoaster ride that was made easy breezy because I was sure that I wanted to be part of ProjectKHEL. I knew from then on that if I didn't make this decision, it would go down on the list of things I regret. The hardest bit was convincing my parents, but I guess that's why you choose your battles especially when you know that it could be worth the fight.
I have been a sports lover all my life. Walked around school and college campus with a ball in hand just to play about any game with anyone who was playing, anywhere. Yet somehow, I always knew there was something more to sports than just playing the game. Something that could change lives. Knowing that ProjectKHEL worked around the same belief gave a reason enough to pack my bags. So here I am, my first mile.
I landed in Lucknow in June, and for the first time more excited about a decision than nervous. A week after, and the feeling of home already set in thanks to the teams genuine interest for every individual working with the team. Having come from Chennai, one of my biggest inhibitions was not being able to speak in Hindi too well especially since we worked with kids who mostly spoke in Hindi. But when you work your way out of a situation with a cop in a language you don't speak very well, you know you have nothing to fear :P.
One of the moments that has stayed with me in my short time here was my first visit to a shelter home for girls. Through an activity, children were asked what they would do if they had been given an imaginary power and almost all of them said they would use that power to help other people.
It made me think of a quote I read long ago by Viktor Frankl that has stuck by me till now-
"Those who have a 'why' to live, can bear with almost any 'how'."
And the vision of ProjectKHEL is a reflection of this for me. A constant reminder that at the center of it all are the children we work for, and that is a 'why' enough for almost any 'how'.
Unlearning
Contributed by: Promod Yadav
Dated: 5th July, 2018
"A small body of determined spirits fired by unquenchable faith in their mission can alter the course of history- Mahatma Gandhi"
These lines by Mahatma Gandhi always inspired me during my journey in development sector, always felt that every single step I am taking in this very journey where we as social worker contribute and create an impact on the lives of others on another side it contribute immensely in one's own life.  Entering in to a development sector, a person need to be passionate enough to work for the cause. Every human has this tendency of getting a sense of comfort and peace when they get to help someone, therefore in this journey we gather some moment of happiness every day.
If I need to look into my own career as social worker, it all started with lots of field work, direct connection with the community and slowly moving up the ladder more focus and time went on managing and implementing the program devised for the benefit of the beneficiaries. I was initially motivated by the thought that now part of teams where I am impacting a larger community. But, over the period of time, somewhere it started becoming more like regular jobs, where you need to sit for fix hours of working and then slowly started feeling less motivated, the happiness of seeing those happy faces were missing. During these days I shifted my focus on looking for internal tranquility and understanding more about inner happiness. On internal peace a person need to work by themselves and external factors need to be aligned accordingly.  In this process of connecting the dots realized that I need to unburden myself and a lots of unlearning and relearning process is required, so one thing which was always very close to me and I was passionate about was Sports, some of the core principles of life I learned at basketball and volleyball court. Being born in Uttar Pradesh but never stayed much and this thing was continuously coming in my conscience to serve somewhere closer to my birthplace.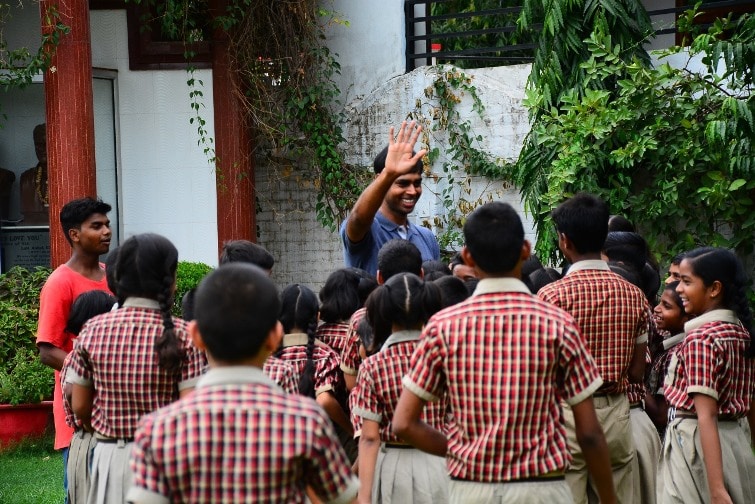 This was the point where Project KHEL came into my life, where magic through power of play was happening. All the ingredients for which I was searching were available: Life Skills through Sports, Lucknow and ultimately a big smile on children's faces. It's been a month since I joined Project KHEL, till now I gained back the passion for which I started into development sector, I started playing again or if rephrasing it well, started to see magic happening through Power of Play. Lots of unlearning and relearning happened during this one month, being a student of Life Skills education for two years during post-graduation and coming to an organization whose name itself contains Life Skills in it (Project KHEL (Kids Holistic Education and Life Skills) brought me lots of curiosity about the way life skills is being served to the children. It gives me immense happiness to see the efforts being taken to put theories into work and minutely working on every single elements to maximize the learning for children. From planning to delivery to re-evaluating the sessions, the effect of all the efforts are visible in the smile of children with whom Project KHEL is working.
Rubaroo
Rubaroo is a Hyderabad-based non profit that seeks to create a platform that is a safe and inclusive space for young people to access opportunities of learning and self development. They do this by facilitating experiential learning opportunities through inclusive, mentored, self-reflective journeys.
Project KHEL hosts ypug school-going interns from Rubaroo for a two month period in order to give them exposure to our work in slum communities and shelter homes in Lucknow
Khelein kyun na koi aisa KHEL jisme sab hi ki ho jeet
Contributed by: Shiviksha Kaushik
Dated: 5th July, 2018 
Life at first job is never an easy transition. You go from living a carefree college student life to following a strict 9-5 rule. From binge watching an entire series the whole night to putting yourself to sleep early because you have to drag yourself out of the bed early the next morning. From relying on your parents for pocket money and all your unimportant expenses to going financially independent. Too much to handle but that's how it is. Actual adulting begins at your first job.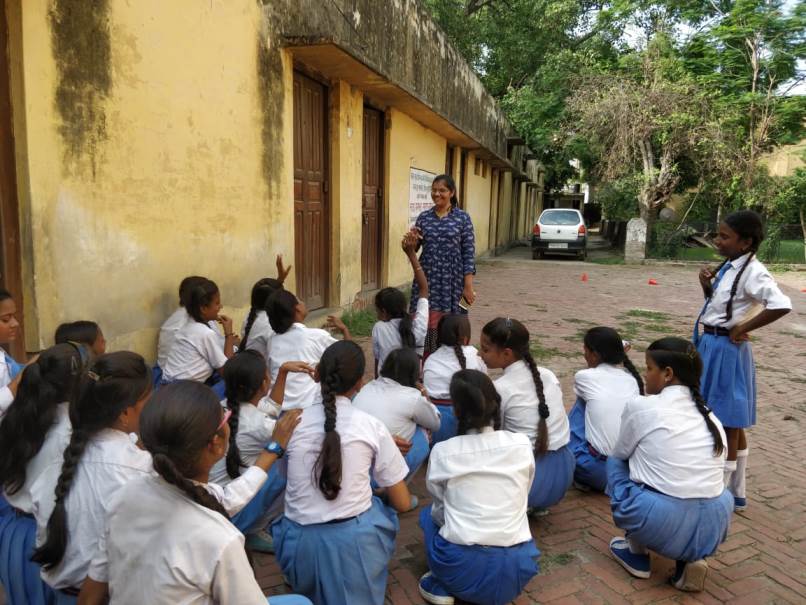 My transition, however, was nothing like how I have mentioned it above. Needless to say that life changes after you begin with a job but how it changes is a completely different topic. I went from being an irresponsible college student to being responsible and taking ownership of my work. From dragging myself out of the bed to getting up, sometimes as early as 6, looking forward to the day. First few days into the organization and I knew this is where I want to be. This place is where I would want to learn and grow.
Before joining Project KHEL I didn't imagine how much play can impact our lives as kids. I didn't realize what worth did the Sports lesson during those school days held in raising me the way I am today.
I attended my first session here as an observer. As soon as I entered the gate I was in awe. The kids gave us such a warm welcome, not because they knew us from before, but just because they knew that we belonged to Project KHEL. In that moment, I understood what our presence meant to them.
One location after the other, I experienced the same thing. Their warmest welcomes and the joy in their eyes were a proof of the work that had been done there before. Their energy makes me want to push my limits to give them the best I can, but more importantly, to give them what they deserve.
At Project KHEL, you'll experience team work more than individuality, empathy more than sympathy, conversations more than professing. Here, you'll experience the joy of playing more than the joy of winning. Winning or losing is not as important as learning something out of it, actual winning happens when you learn from your failure. Kids here justify and explain the lyrics I've always loved but never understood khelein kyun na koi aisa khel jisme sab hi ki ho jeet. Play can teach us things books can't, and witnessing the kids and the youth leaders here is the biggest example of it.
With time spent here, I have realized how important it is for each child to grow up in a safe space. A place where kids can be themselves, a place where they can express, grow, involve and evolve.
With all these thoughts in mind, I look forward to embark upon this journey where I grow to be a better person while trying to impact other lives positively, one kid at a time.
The mountains were calling and we decided to go!
Contributed by: Medha Mukherji
Dated: 5th June, 2018 

Curious about our KHEL Gaadi experience to Rishikesh? Read on to find out more :
Before the completion of my first two months with Project KHEL, I got the opportunity to visit Rishikesh and deliver a Summer Camp, hosted by the Simple Education Foundation at Government Inter College, Gular Dogi.
We decided to make the most out of it by adding some elements of team days to this offsite visit where we would discuss the past year, the year ahead and how we want to shape our organisation culturally.
"Give me 6 hours to chop down a tree and I will spend the first four sharpening the axe." – Abraham Lincoln.
We started our preparation almost a week before leaving for Rishikesh. From activities, workshops, equipment, session plans to travel and adventure plans – we were getting ready for it all.
One of the first lessons I learnt during this time was about how it's never too early to start preparing and there's always scope to prepare more to deliver better.
Everyone working together.
Right from when we started the trip, everybody knew what they have to do but it was more important for us to know, how can we support each other better. Most of our planned activities and tasks were to be delivered by 2 or more facilitators and that's when we need for everyone to be on the same page.
Empowering the children = Empowering the community.
We worked with approximately 80 brilliant, outspoken children who were always waiting for us with a big smile on their face.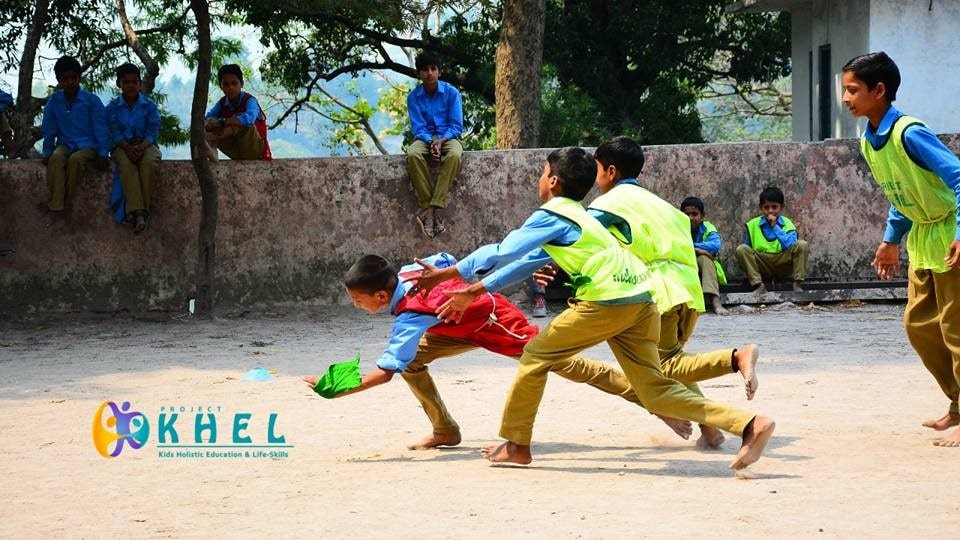 Over the course of three days, along with learning new games, action songs, relays and sports, the kids also were a part of three different workshops, namely : Menstrual Hygiene Management, Teen Talks and Child Sexual Abuse. The takeaways they had at their school, would hopefully reach out to their families and friends in 12 different villages.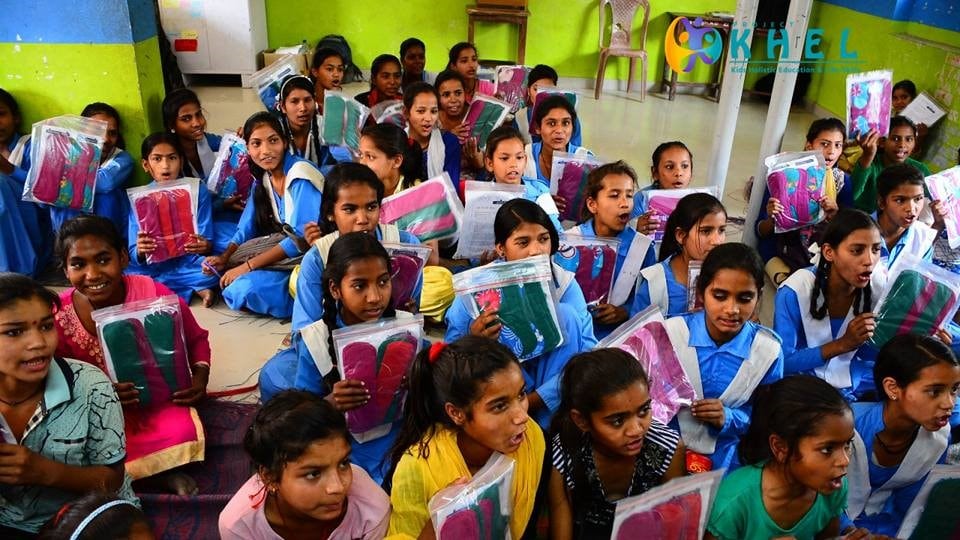 An unforgettable experience.
Driving all the way from Lucknow to Rishikesh and back to spending hours discussing various theories, behavioural factors that shape how an organisation functions to learning about the people we work with and their strength/weaknesses – Each of us had our own learnings.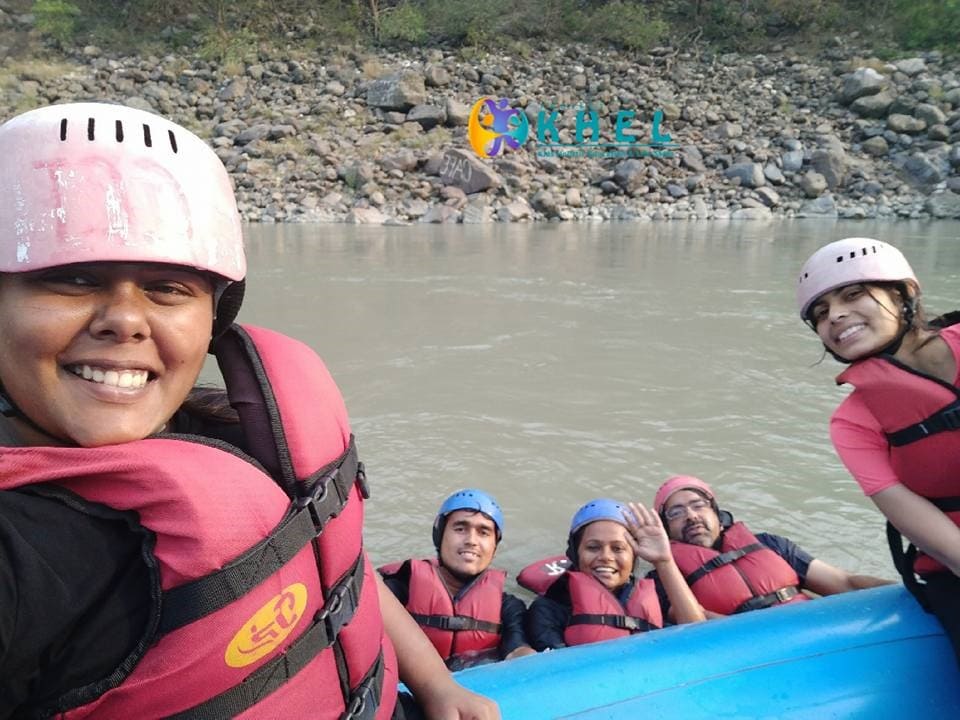 That's not all. Amongst the five of us, 4 did River Rafting for the first time – the thrill of which still hasn't faded away.