Monthly Archives: August 2017
Balu Adda
Balu Adda is a slum settlement where most of the residents are migrants from Assam. Project KHEL currently works with more than 40 children at this location through our weekend volunteering programme.
Modern Madarsa
Modern Madarsa strives to improve the quality of life of children from low economic backgrounds by focusing on their education. They have set up an 'After School Model' which aims at holistic development of children by working on comprehensive education with importance to English and Personality improvement while learning the traditional Islamic courses.
Project KHEL has partnered with Modern Madarsa to inculcate Life Skills in the children through our Made in Maidaan Programme. We engage with more than 40 children from this location.
A Night's Tale
Contributed by:  Arsh Lalano
 Dated:  10th  July, 2017
Experiences are takeaways from a journey. I started my internship journey on 11th of June with Project KHEL. I was very excited and was prepared for the upcoming challenges. Throughout my internship journey, the thing which was very touching for me was the night stay at one of Project KHEL's Community Youth Leader, Uttam's house.
The moment I stepped out of the car, I saw happiness around me. Uttam and his younger brother Gautam were waiting outside to welcome us with a huge smile on their faces. I could smell the delicious dinner his family was lovingly cooking for us. I felt welcomed and pleased at the beginning. There is a saying "You can know how much a person loves you only by their actions". This saying was so evident in the actions done by all the members of the family to make sure that my friend Rutvik and I were comfortable. I was being treated not like a guest but a family member itself. I felt I was back home because Uttam's mother was taking care of me just like my mother. I was touched by their hospitality.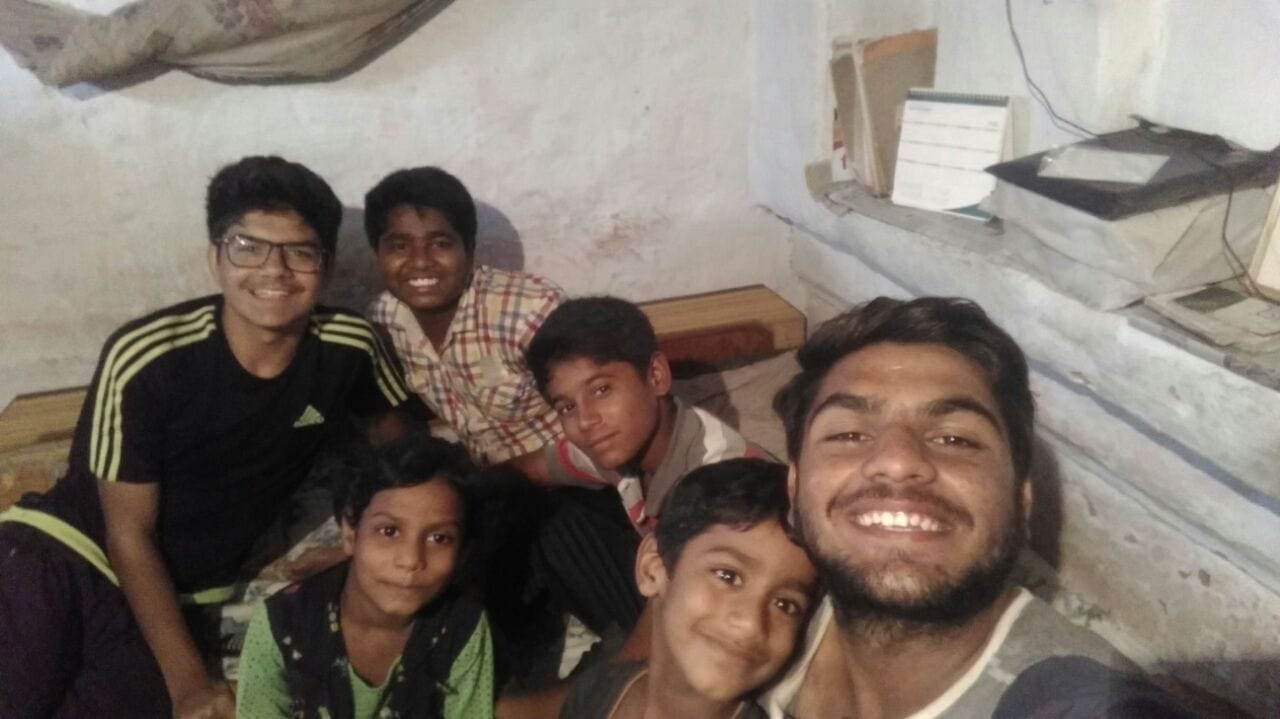 Entertainment and masti are the key elements for a night out. To build up the mood, we first started watching TV, then took a couple of selfies together making funny faces for capturing this memory. Just then I heard a voice saying "Khana ready hai, Dinner ke liye baith jao" (Food is ready, please come and sit for the dinner). Soon after I was served with the delicious food. Being a foodie that food was heaven for me. I could feel the love in each bite I took. The softness of paneer and sweetness of sevai was overwhelming. With this, I could also see the satisfaction and happiness in aunty's eyes seeing us enjoying the food. Moving on, after eating the dinner we went on the walk to a park. I took off my shoes and while walking I could feel the wet grass underneath my feet. I just could not stop staring at the sky at that moment. Since everybody was tired, we layed down on the bed for some time and had a nice conversation until I slept. I had a pleasant sleep that night.
Next morning, I woke up at 7 in the morning. We didn't have our toothbrushes, so we tried brushing our teeth with neem twigs. It was another challenge for me because it was the first time I was doing such a thing. After freshening up, we went to visit the Butler Palace which is right behind their house. It was drizzling a bit and clouds were all above us thus we thought it was the perfect setting to explore the palace. The place was supposedly haunted, which made the adventure even more interesting. First, we had a great site seeing of the palace till the top floor. Gautum was the guide who kept telling us all the interesting history about the palace. Then for fun we tried a Mowgli ride, holding on to an aerial root and swinging from one end to the other, which was so much fun and adventurous for me. My hands were burning after I tried the ride though! The burning sensation disappeared with the delight of the breakfast served to us. After eating the breakfast, we clicked a picture with their family and thanked each member for hosting us so lovingly. It was a memorable experience for me altogether.
Experiencing Ultimate Frisbee
Contributed by:  Rutvik Surani
 Dated:  08th  July, 2017
"It is good if you achieve success and stay there, but it's better if you fail and try again."
Never thought Frisbee was an actual competitive sport where people would not just win the match but they win the hearts. In the past, I have played Frisbee many times, but something was different about the way Project KHEL plays Frisbee. I asked my mentor, Akshai,"what is so different about playing Frisbee here"; he replied saying "it's not just Frisbee, it's Ultimate Frisbee." Later, after attending regular sessions of Frisbee at 6 in the morning I realized, there is no referee in the game, girls and boys play together as a team and if any foul is called then it's the teammates who have to come up with a solution and decide what it is. I found out that the motive behind this was to make the player themselves understand and take responsibility for all the action that takes place. Playing Frisbee wasn't something new for me but playing Ultimate Frisbee was something super new!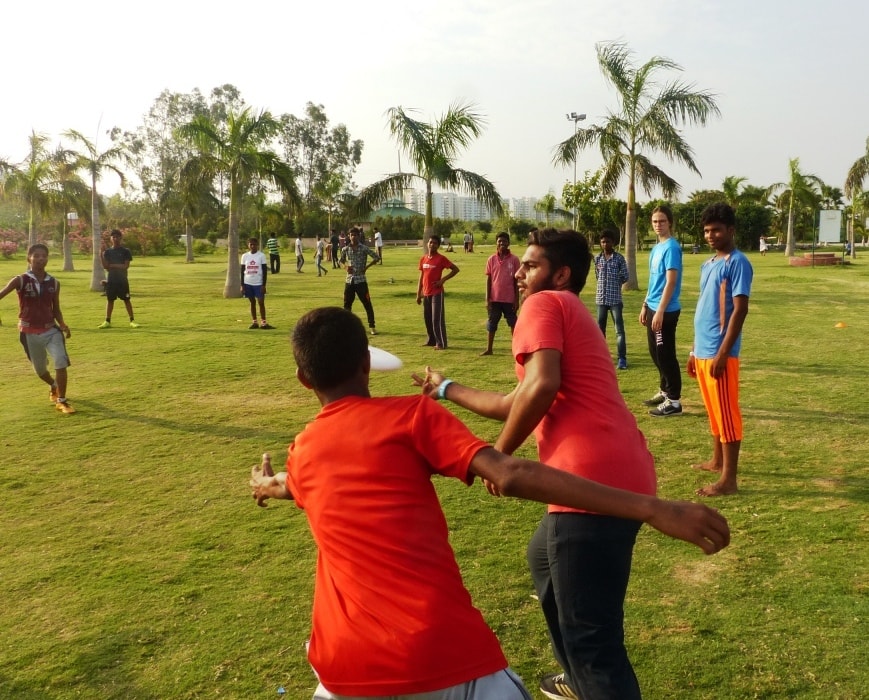 I thought that Frisbee was just a disk that you take when you go out for a picnic. Never knew it had a proper style of playing like backhand throw, forehand throw, disk-in, forehand defence, backhand defence, stage and all other terms were like new born words for me. Looking for both boys and girls playing together in a single team made me feel amazed. Now it was my turn to get into the sport and learn something.
As I was a beginner I thought that I would not be given that much of importance because they play at the national level and we are way below their level. However, my assumption was shattered down to pieces when some of the children came to me to teach me how to play Frisbee! They were very friendly and welcoming. Every day when we reached there they all used to come to me and say "good morning bhaiya" and it was so welcoming I don't have enough words to describe it. However, I can exactly describe the whole situation of warm up time that we have before we start playing.
As Exercise was the first thing that we used to do as we reach there I used to take a lot of time to just get ready. However, we had to run 5 rounds of the field, and then do tight exercise. It was tough for me to run and do exercise because I was too lazy to do that but still I did because those kids supported me and ran with me all the way till the end and I didn't feel like giving up. After exercise, we do some drills where we learn specific frisbee skills. It was fascinating to watch them swing the disk in different styles but I didn't realize the hard work that they did to achieve these skills until I was actually made to do that. It was tough, and for sure it was not a piece of cake.
It took me around 10 days to learn the backhand throw, which is still not perfect compared to other kids.  However, forehand throw was much more difficult and therefore I was not able to learn it during this time period. Now I realize that how much hard work they have put in to learn all the skills that they have gained.
Overall it was a charismatic experience playing ultimate Frisbee with Project KHEL. I will never forget the values that they have thought me, the love that they have shared, and the memories we have made. I am sure that I will be taking an initiative to bring up this concept of ultimate Frisbee in my school at AGA KHAN ACADEMY HYDERABAD.
Sarthak Foundation
Sarthak Foundation is a non profit organisation that strives to improve the quality of life of children living in slums and villages (mainly beggars, rag pickers and nomads) by focusing on their education. The Foundation reaches out to children who cannot afford quality education and take them beyond 'just being literate'. They have set up a supportive 'After School Model' in the slum communities and focus on the holistic development of children by working on comprehensive education with importance to English, Mathematics, Computer and Personality improvement.
Project KHEL had partnered with Sarthak Foundation to inculcate Life Skills in the children through our Made in Maidaan Programme. We engaged with more than 80 children from two Sarthak centers – Malhaur and Chinhat)