Monthly Archives: June 2014
Per…shhhh… Don't say it out loud!
"Don't go out in the sun, you'll tan your skin." "Why don't you put kajal?" "Wear earrings, it will add to your look." "Wash your hands." "Clean your nails." "Shampoo every third day." "Clean your belly button!"
There were care instructions for almost every part of my body, and for my privates, the only instruction was, no one should see it.
"Sit properly, no one should see it. Stop wearing skirts, you risk letting it be seen."
"But…"
"Shhh… No more but. Go take bath."
"But Mummy what to do with the hair I have there?"
"God! Can't you just do what is being said? No soaping there. Leave it alone and stop this right away."
Having never been told about  my body and periods in a responsible way, I was always inquisitive. I also knew that I was not suppose to ask about it to anyone. I had my own ideas. Going away from home for my graduation gave me my one chance to talk about this. My inquisitiveness came out in the form of random one liners through which I was trying to gauge other girls' perspective on such a topic. That turned out pretty sad too. A lot of my friends took it as perverted humour from my side.
***
MH Day and breaking the silence initiative…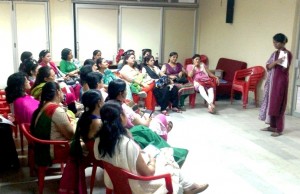 Less than a year through my first job, a big part of my 'obsession' came true as I was finally talking to young girls about their periods thanks to our MHM sessions and outreach as part of ProjectKHEL. Building on our experiences of conducting MHM sessions, last month we celebrated Global Menstrual Hygiene Day at ProjectKHEL through an initiative in which we trained 24 women and girls as "Menstrual Educators" in order to "break the silence" surrounding menstruation.  These volunteers conducted MHM sessions from the 24th to the 28th May, 2014, reaching out to more than 300 girls. Apart from this, I was able to reach out to 160 girls and women through 8 sessions I conducted with school girls, inmates of a remand home for women and members of a women's social club.
Thus, in a short period of time, through these sessions conducted by ProjectKHEL, I was able to speak to more than a hundred girls and women across different age groups and social status, about their periods and about their vaginas and some of the experiences I had have stuck with me…
 "…Didi, I am not shy about talking about periods. Just that there are senior girls around me and I think they will call me over-smart if I talk so openly about this…"
This is what a kid from a privileged background said after our session in her school got over.  She feared being judged! Umm so it is ok to talk about stupid fairness creams and talking about your own natural process makes you vulnerable to judgement! Who do we blame this to? The education system with its hollow standards, or the society which makes periods taboo topic or the media which glamorizes the prejudices against dark skin but shows a blue liquid on a sanitary napkin as if it was some blotting paper for a leaking system, a concept nowhere close to the actual process?
 "…Aapne toh kaise kaise shabd ko itne comfortably use kiya ki hume toh sunte time laga hi nahi ki ap 'us' shabd ko bol rahe ho…"  
This is what an educated aunty from a very privileged background said after the MHM session was over. The 'kaise kaise' words were Vagina and Periods. She possibly would have menstruated for more years than even my age, but look at what she had to say! For everyone who discussed with us our MHM sessions were of the opinion that rural/underprivileged women were more "in need" of such awareness because rich women are still better off. Oh yes! They are in a better position and that is why they all sat still because we were talking about Per…shhh… don't finish the word, they wouldn't raise their hands to reply to basic questions of the female body, and looked nervously at their phones or got all numb at every mention of the V word.
It was nice that our comfort in using 'such' words got noticed and appreciated, but would have felt way better if some of this comfort was passed on to them too. Living in denial of a certain body part is so not healthy. Imagine how much happier our lot would be in full acceptance of our vaginas and give them as much attention as we would give to our face. Our privates are covered, they are for us to see and for us to take care of, keep clean and feel happy about.
 "Didi aapne toh humare poochhe bina humare sawalon ke jawab de diye. Sharam aati hai sochne mein bhi, pooch toh hum sakte hi nahi hain…"
This was from a session with young girls and women in a remand home. It must have been a group of 30. The only one person who was most upfront about it was a deaf and mute girl, who was lip reading through the session and tried her best to interact as much as possible. After the session I was forced to think if her "shamelessness" was because she couldn't hear, so her opinions/thoughts were least influenced by social stigmas…
Anyway, the session here too was pretty much similar to the ones for the privileged audience in terms of reaction and participation, the only difference being that most of these girls hadn't been to school so were unaware of the biological part of the process. Conducting sessions with hundreds of girls till date, we had a rough idea of the kind of concerns they have. We addressed all of them one by one. By the end of it, while some girls finally opened up, some others chose to reserve their comments for a personal interaction with us.
Women around the world are connected by the blood they shed each month but more so by the shame attached to this natural process that restricts their acceptance of their bodies…
What was common through all the sessions conducted was that we started off with a dumbfounded audience, because they never expected "someone would ever talk about this" to them.
Interestingly enough, not one girl or women through these sessions got distracted even for a minute. I guess they all wanted to know.
Most queries and comments were reserved for the post session interaction. While we spoke to one, the others made sure they weren't around and the ones who came to speak made sure that no one else could hear them.
In almost all the sessions, the audience went back to what they were doing in pin drop silence without hinting at any possibility of period talks post the session. While this was a  little disappointing, the happier side of this was that we had started all sessions with a bunch of extra quiet girls, but eventually some opened up. What was most encouraging in the entire Menstrual Hygiene Day initiative was the number and varied backgrounds of the volunteers who registered for our MHM orientation and conducted sessions at various places across the city. From teachers to doctors, housewives, university students and even school students, their enthusiasm was refreshing. We even had some girls from villages as far as 30 km away come all the way to the city to learn from us so they could go back to their areas and conduct MHM sessions!
Hopefully our small effort has helped take the first baby steps towards "breaking the silence"!
Read more on the initiative undertaken by ProjectKHEL on Menstrual Hygiene Day 2014.
Breaking the Silence on Menstrual Hygiene Day
The first ever Global Menstrual Hygiene Day (http://menstrualhygieneday.org/) was celebrated on the 28th of May (the numbers 28 and 5 having significance as an average menstrual cycle is every 28 days with 5 days of menstruation).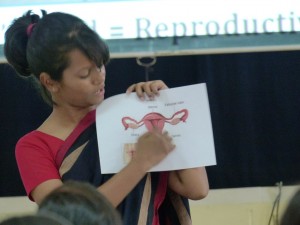 To help 'break the silence', ProjectKHEL called for 28 volunteers to train them to become Menstrual Educators, so that these volunteers could reach out to at least another 500 young girls and women over a 5 day period and talk about Menstrual Hygiene Management (MHM). Although we received an amazing response for this post on Facebook, only 24 volunteers could make it to the orientation. There were many who were genuinely interested but could not attend because of their University exams or were out of the city for summer vacations, they have requested us for another orientation, so they could be involved beyond MH Day!!
As planned, most of our volunteers were able to conduct their sessions between the 24th and the 28th of May, 2014, reaching out to 324 girls! The volunteers, who ranged from teachers, to school and university students, girls from villages as far as 30kms away, doctors and housewives shared their photographs (posted here), and also their experiences. Every experience shared seemed to be an awesome story in itself.
Here, we would like to mention a few ladies who added their own extra something to the programme:
Ms. Rehana Ali, a senior teacher, carried 2 cotton sarees with her and taught her audience of 20 to stitch their own pads!
Ms. Anjana Ambili, also a teacher, conducted 2 sessions, one with a set of underprivileged girls and one with the domestic workers in her neighbourhood. Technically, we needed our volunteers to conduct minimum one session in the 5 mentioned days, but she went ahead and did two!
Ms. Aena Asif and Ms. Adya Singh, class 9 students, were the two youngest volunteers for the campaign. They found it difficult to get all the girls together, so they did a number of one-on-one sessions with underprivileged girls as and when they found them!
Ms. Aditi Ghildyal, a university student, got to know of the campaign a bit late. So we trained her personally on the 24th and the next day she was to attend an engagement function of a relative, where she began talking about MHM to as many female relatives as possible! On the 26th she was out on the streets of Vikas Nagar looking for underprivileged girls and women to educate them about MHM. Upset about talking to only 10 of them, on the 28th, she visited a slum closeby and managed to talk to as many as 35 young girls and women about MHM!
Ms. Rasna Singh, a resident of Behrora, Itaunja, conducted the MHM session with the women in her village. She showed them a video on menstruation in her phone. The audience got so interested that they motivated another 21 to attend the session again.
A special mention for Ms. Sapna Singh, who wasn't there for any of our training programme, but was so passionate about the cause that she motivated girls from her village to attend the orientation and even assisted them to conduct their sessions. Ms. Sapna led the session with the 21 women that was conducted in Behrora. She even managed a couple of videos to show to her audience and also made them do an activity in which they had to draw or write about their experience when they menstruated for the first time.
Although we have mentioned only a few names, we are thankful and appreciate the participation of each and every volunteer. The fact that all of them came forward to talk about something as "shameful" as Menstruation, is commendable in itself.
Apart from this indirect outreach, ProjectKHEL itself was able to reach out to 160 girls and women as part of this campaign. Our Project Manager, Angana Prasad, conducted 7 sessions on the 28th of May starting at 6.30am and reaching out to 75 school girls, 27 inmates of a government Remand home and a group of 25 ladies belonging to a club by nightfall! She also conducted a session with 33 girls and women at a vocational training center after the 28th taking the total outreach number to 484, just 16 short of our target of 500! However, with the interest generated by this campaign and volunteers still coming forward, this is just the first step in our efforts to break the silence surrounding menstruation!
Do visit our albums on facebook page to see photos of our Menstrual Hygiene Day campaign and also earlier MHM sessions with our beneficiaries, and outreach sessions at Salon, Amethi and Ramduari Village, Mehmoodabad.
-       Team KHEL